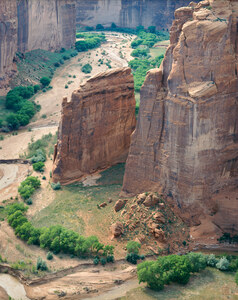 Canyon de Chelly, Arizona
Canyon de Chelly National Monument derives its name from the Spanish corruption of a Navajo word, Tsegi, or rock canyon. The monument encompasses four canyons, cut back, eastward, into a gradual slope for several miles, like the branches of a great, horizontal tree—Canyon de Chelly and Monument Canyon to the south, and Canyon del Muerto and Black Rock Canyon to the north. The monument is a very lovely home for a few Navajos who mostly live by farming, as did the Anasazi before them, beginning about 1,600 years ago. It has recently become possible to date, to the nearest year, the age of wood beams the Anasazi used here for the construction of cliff dwellings, by dendrochronology, the science of dating wood by the comparative study of tree rings. The rings exhibit patterns derived from the sequence of climatic conditions from year to year. The bristlecone pines of the Great Basin of the American West provide the basis for comparisons with ancient wood, because living trees over 4,000 years old have been found, and wood has been found well preserved on the ground which has made it possible to extend the pattern back as far as 9,000 years.
I was safely perched behind a stone wall at an overlook, with 600 feet of air below me. This is one of the few occasions where the equivalent of a moderately strong drop front movement on the camera was used to reduce the downward convergence inherent in the perspective. The cloud, which reduced the intensity of the sun by three fourths, or a little more, was vital to the image, because the very large areas of shadow needed to be bright, relative to the sunny parts.
Canyon de Chelly, Arizona
1985
Canyon de Chelly, Arizona 1985