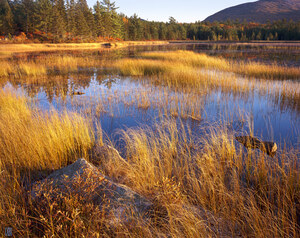 Aunt Betty's Pond, Acadia National Park, Maine
The grasses in the pond were exquisite. My great friend Steve Andersen was with me, the person who has done more to protect the ozone layer and perhaps even the climate as a whole than any other person. He drove the Montreal Protocol forward with stunning energy and cleverness and dedication. We go on lots of trips to faraway rivers and such. Down the Mississippi in 1979. Three trips to rivers in Alaska's hinterlands. And a trip for older adventurers this September on the Thames in England, with a stop at Oxford, to see where Inspector Lewis was filmed. My wife's a big fan of traveling in England. I rather like the Swiss alps. But mostly I've stayed with photographing the U.S. We have a lot of the best and besides, it's our place. We need to take better care of it.

The pond has one of Acadia's famous carriage paths around the left shore, and if looking closely one can see a couple of the large, granite blocks which were put beside the path plus a bit of the path's gravel surface too, at the left edge. One of the Rockefellers donated the land to the nation and the park has a network of roads mostly separated from the public road system of Mount Desert Island. 
Aunt Betty's Pond, Acadia National Park, Maine
1994
Aunt Betty's Pond, Acadia National Park, Maine 1994