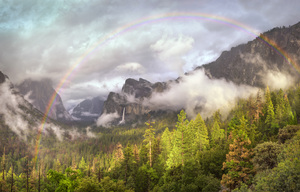 Rainbow, clearing spring storm, Yosemite, California
An insightful young French artist, upon looking at a portfolio of my prints in the 1990's, remarked "You are a nature worshipper."  I didn't know at first what to make of that, but eventually realized that he was quite right.  I had never thought of it in so many words.  It may be that this photograph proves as much, more than any other, though I think it would be fair to say that they all do.
I first had the good fortune to enjoy the company and assistance of my friend Henry Wilhelm as we stood for nearly four hours in the intermittent and sometimes heavy rain, watching for special moments. But then the small crowd in attendance was stunned to see sunlight flood up the canyon of the Merced and begin to create a rainbow over the very rapidly changing scene.  Despite my considerable familiarity with the photographic possibilities of Yosemite Valley, it had never occurred that this could happen, and to be in position and prepared to capture this scene successfully was fantastically lucky without a doubt.
If the aspect ratio suggests that this was a single frame from a 35mm camera, the truth is far happier, though also indicative of the immensely greater challenge for me which this rendering was.  The image detail easily exceeds that of mid-20th century 8 x 10 B&W film, and the more appropriate image geometry which has rendered this 100-degree horizontal angle of view was quite impossible until the advanced systems which are in my current toolkit.  The master file has 106 million pixels of data from one of the best two medium-format sensors ever built, so the detail quality which is so important to photographs of landscapes is happily quite beyond reproach.  I'm still trying to take it in after working with it all day for over a week.
Rainbow, clearing spring storm, Yosemite, California
2017
Rainbow, clearing spring storm, Yosemite, California 2017